Children's Dentistry
We recommend that your child comes in for a checkup by the age of 2. This first visit to Milford Dental Excellence should be stress-free, painless, and fun! We're great with children; we put their needs first.
Our team knows how to use comforting, friendly language; we explain procedures in a way that won't scare a child.
Our goal is to make both you and your child feel comfortable.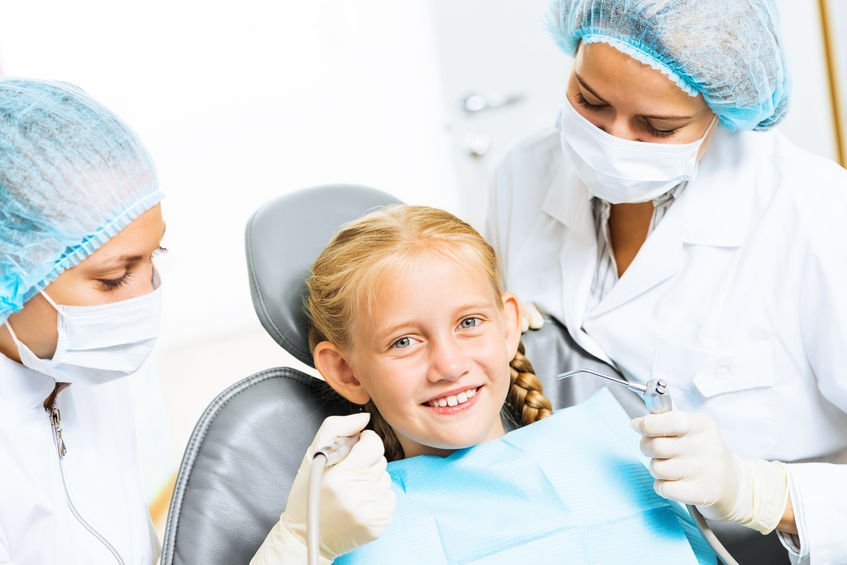 Healthy Oral Hygiene: Baby's First Teeth
Sometime between 6-12 months of age, your child's teeth will begin breaking through the gum. This process continues through age 3 or so. To relieve pain, have your child chew on a cold, damp washcloth or teething ring.

Tooth decay can begin as soon as a baby's teeth come in, leading to cavities, and, causing great pain. Babies have a higher decay risk if their teeth are often in contact with sugary liquids, such as milk, fruit juices, soda, and other sweetened liquids.

Never put a baby to bed with a bottle or use a bottle as a pacifier unless there is only water in the bottle.

After your child's teeth start breaking through the gum, examine them several times per week. Look for signs of decay, such as discoloration or spots on the enamel. Brush the individual teeth with a soft brush and a very small amount of toothpaste.

During this time, you can instill good dental hygiene habits. Brushing can be fun! Flossing is also important since most decay begins between the teeth. We recommend that your child brush morning and night. Try to limit sugar-filled foods and drinks.

Baby teeth should total 20. Then, around age 6, your child will start losing primary teeth, and permanent teeth will begin to grow in. After all permanent teeth have grown in, the child should have 28 teeth. If wisdom teeth are present, the total is 32!

Teaching your child good, early dental hygiene habits leads to a lifetime of healthy teeth.
The staff at MDE are amazing! From the moment you walk through the door and are greeted until the moment you leave, you feel more like you have been to a friend's house than to a dentist office. I have 2 young children, 2 and 4, who love coming to the Dentist because of the care they received at MDE. In fact, every time we drive by they say, "there's our dentist!" I want to give a special shout out to Heidi and Ruthie who worked with 2 rambunctious boys today! Thanks for taking such awesome care of them for me!
I have been coming to Milford Dental Excellence for years and have never had a bad experience. The staff is friendly and do a great job. They also have been seeing my daughter for 2-3 years and do a fantastic job with her. I would certainly recommend them to anyone that needs a new dentist.
I have seen all 3 dentists and have always been happy. My kids come here also, and they feel comfortable with dental visits. I recommend MDE to everyone I know.
We just switched to this dental practice because of how close it was to our home. The staff was exceptional…..very kind and friendly. I appreciated their patience and how well they explained everything to my children before completing any procedures. I would definitely recommend this practice to others.
We drive 40 minutes to come here. The entire staff is fantastic and absolutely wonderful with my children! It is so nice to have everyone in the family look forward to our dentist appointments. Thank you to all of you for making every experience a great one!